Friday, 19th August 2016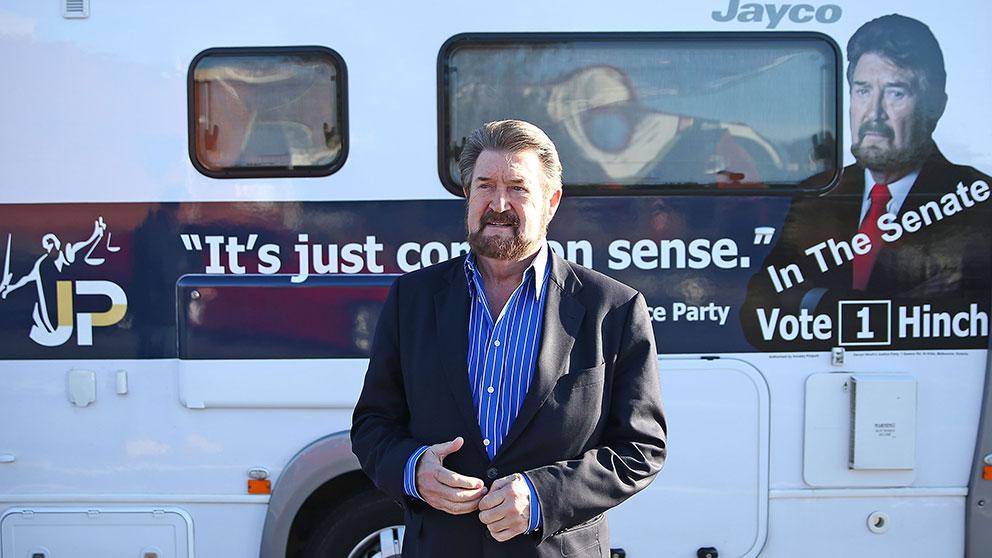 Why is the Government reluctant to implement a national public pedophile register?
Senator elect Derryn Hinch has been campaigning for a national sex offender register for decades and has even done a couple of stints in prison for disclosing the names of alleged offenders after the courts suppressed the names. So there is no doubting that now he is a Senator in the 45th Parliament that this topic will be further explored.
On the face of it, a public sex offender register seems like a perfectly reasonable proposal. As a community we want to protect our most vulnerable and kids are one of the most susceptible groups.
This policy of Derryn Hinch's Justice Party includes implementing a public register via a website or an app of convicted sex offenders that will show the offenders name and address, photo, the crime they committed and whether it was committed against an adult, teenager or younger child, plus the year that the crime occurred.
The Justice Party does acknowledge that the police in each State and Territory currently keep a private register, but the party laments that it's up to a judge to place someone on this register and that it is not backdated to include offences committed before this private register was in place. This is not actually quite right. Some States leave it up to a judge to place a person on the register, while in other States a person convicted of certain crimes is automatically placed on the police register. The police and some government agencies can access this data and generally speaking the people that are on this register have to regularly check in with police for eight to 15 years, updating their addresses, car rego, internet details, phone details etc. Some convicted offenders are kept on the register for life.
What does the Constitution say about this?
Our Constitution does place some limitations upon how laws are enforced in Australia. Constitutional expert Helen Irving in her book Five things to know about the Australian Constitution writes about the Separation of Powers:
The goal of this doctrine, which was developed more than two centuries ago and is followed in many countries, is to prevent the monopoly or abuse of power. Power is required to be exercised by different branches government. 'Checks and balances' operate, and the accumulation of power in a few hands is prevented. 
The separation of powers is not spelled out in our Constitution, but the different branches of Government are separated into different chapters of our Constitution. Helen Irving goes on:
The Constitution is separated into different chapters, the first three of which have the titles 'The Parliament', 'The Executive', and 'The Judicature'. Each begins with a statement about power and the different institutions in which it resides. The 'legislative power' is 'vested in the Federal Parliament'; the executive power 'is vested in the Queen and is exercisable by the Governor-General as the Queen's representative'; the 'judicial power' is 'vested in the Federal Supreme Court, to be called the High Court of Australia'.
We know that the executive and legislative powers overlap in Australia, as to be a member of the Executive you also need to be elected to the Legislature. However, the fact that members of the Executive are elected to Parliament means that they are able to be checked by the Parliament. They are accountable to Parliament and also to us as the public who elect them.
The third power, the 'Judicial Power' can only be exercised by judges of the federal courts. These judges have the power to make binding decisions about the law as it has been written (normally by the Executive) and then implemented by the Legislature. Another important point that Ms Irving write is:
Members of the Executive (or administrative bodies, like tribunals) are constitutionally prohibited from exercising such [Judicial] power.
What does this mean for a public pedophile register?
If we see a pedophile register as punishment, then only the courts should be able to make a decision as to whether someone is placed on the register. If the Executive were to compile a public register it might be a breach of the Executive power. Although, the Executive might be able to argue that this was not a punitive exercise and then it could be up to the High Court to decide whether that is the case. 
Plus, these are State crimes. Should it be up to the States as to whether they would like to implement something like this? If the Federal Government compiled a public database of convicted sex offenders that have already received punishment from a judge in a State court, it might be considered double punishment. Plus how do the Federal courts oversee all this? It makes the whole thing very tricky.
The other thing Derryn Hinch is not a fan of, is that the current private registers only contain the names of people who have been convicted of offences since the State legislation was introduced (all States and Territories introduced this legislation between 2000 and 2006). In Australia when someone is convicted of a historic crime, the law that applied at the time is used as the basis for punishment. Retrospectivity, or applying new laws to old crimes, does not occur much in Australia, although there is no explicit Constitutional section that would prevent this.
What are some of the reasons why legal experts are arguing against a public sex offender register?
According to the rule of law once a person has been committed of a crime and then punished for that crime they should be allowed to re-enter society. A public register such as this could mean that persons who have been convicted of these offences are going to be forever punished. But are some crimes so abhorrent that we need to reconsider this framework.
A publicly available pedophile register might also increase community angst about stranger danger. There has been a lot of information published about the fact that most sex offenders are known to the victim. Hence it is argued that this type of policy would not decrease the number of criminal offences, but could increase public fear.
A register like this might also feed into the current common practice of public shaming. Is this really about protecting the community or do we feel the need to publicly shame people who have been convicted of some offences. A register like this not only shames the offender, it also causes suffering for family and friends of the offender. You don't have a choice if a family member commits an offence, but you could also be stigmatised and discriminated against because your relative's name, address and photo appears on a public register.
One-size fits all approach for a sex offender register
Many legal experts are not enthusiastic about a one-size fits all approach in sentencing. It means the judge cannot take any mitigating factors into account when sentencing. It's hard to imagine mitigating factors for sex offenders and why it should be up to a judge to decide things like this, so we'll look at another case of one-size fits all in the justice system.
In 2014 the NSW State Government introduced mandatory sentencing for one-punch attacks. This occurred after a spate of high profile king hit attacks on strangers in Kings Cross. One case that was reported upon extensively was that of two brothers, Barry and Patrick Lyttle who were visiting from Ireland and got into a fight in Sydney. One of the brothers punched the other who suffered quite a severe injury and was in hospital in a coma for a week. The Law Council of Australia's President Stuart Clark stated at the time:
If Barry Lyttle had been just a little more intoxicated and if his brother had died in hospital, we would have seen an automatic sentence of eight years in prison. How would such an outcome have served the community?
In the end Barry Lyttle received a 13 month suspended sentence. But if his brother has been killed by his one-punch the judge may have been forced to give him the eight-year mandatory sentence. It has been argued that this one-size fits all approach in sentencing for one-punch attacks did not intend to include cases like this one.
Which takes us to the question of what we are trying to achieve with sentencing of sex offenders. It is just punishment or are we trying to rehabilitate people convicted of these crimes.
Rehabilitation v Retribution
There are so many emotions and subjective opinions on this topic that the Parliament will never be able to please all sides. For example, rehabilitation v retribution is a tough theory to comprehend abecause society seems to believe the sex offenders cannot be rehabilitated. Especially child sex offenders. A 2004 report titled Recidivism of sexual assault offenders: rates, risk factors and treatment efficacy written by the Australian Institute of Criminology looked at Australian and international research on sexual, violent and general recidivism among sex offenders. It states that:
Despite the assumption that sexual offenders are particularly prone to reoffend, reconviction rates for sex crimes are relatively low.
It has been argued that being publicly and forever punished for their crime can make it difficult for offenders to be rehabilitated. Probation officers and civil rights groups have said in the past when child sex offenders have been publicly named and shamed, they are driven away from therapy and to where they are not known, where there is a greater chance to offend undetected.
The first sitting of the 45th Parliament starts on 30 August. We'll have to keep an eye on what happens next and whether Derryn Hinch moves to introduce a Private Members Bill for a national sex offender register. What shape that legislation takes will be very interesting.
You might have some thoughts on this topic. Why don't you let us know in the comments below?