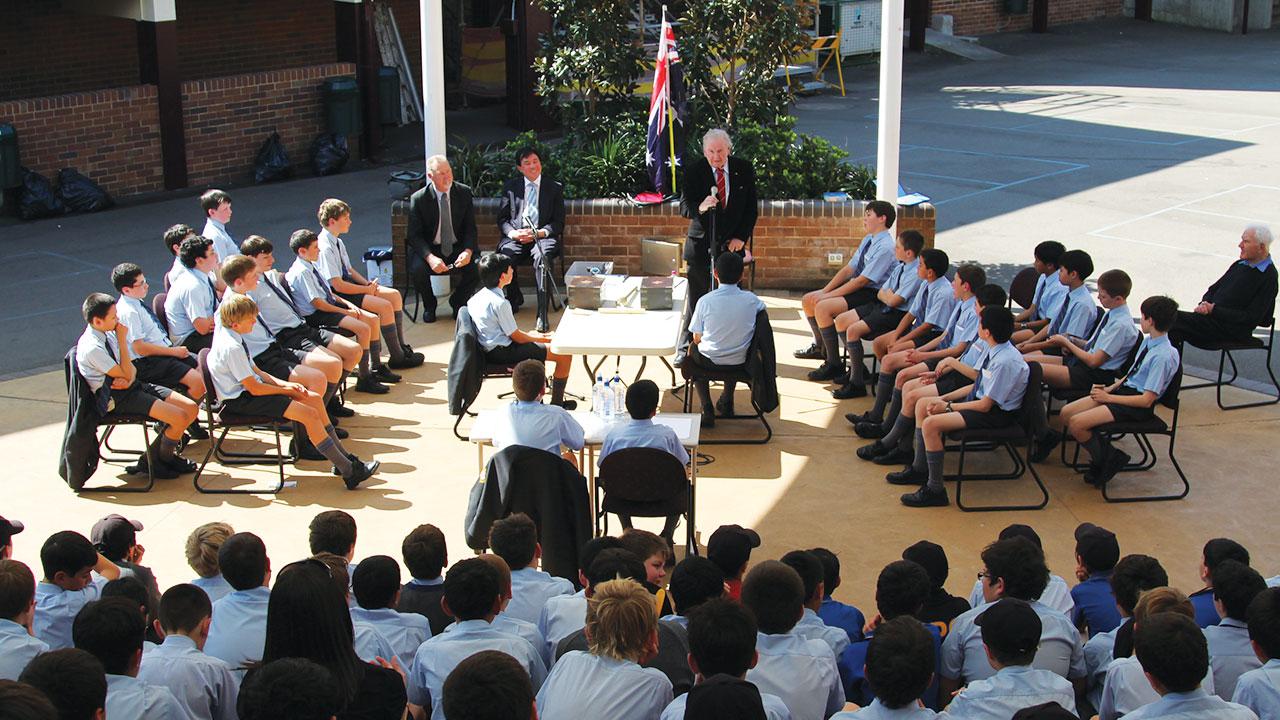 CEFA School Parliaments
Educating for Democracy, CEFA School Parliaments (CSP) is a major civics education initiative, which CEFA offers to both primary schools and secondary schools across Australia. CEFA School Parliaments empower students to become knowledgeable, responsible, engaged and active citizens.
CEFA School Parliaments re-create Australia's democratic system within the school and the students are the central players. Students are involved in creating a structure that reflects the Australian system of government. Forming political parties, students conduct elections; produce school newspapers and debate issues relevant to them, their communities, Australia and the world. Students take on the roles of parliamentarians, advisers, and parliamentary officers, ministers for special initiatives, committee members, journalists and cartoonists.
There are several ways to implement a CSP as every primary and secondary school in Australia is different. The CEFA School Parliament can involve the whole school or be contained within a special initiative for specific year-groups. It can be run as an extra-curricular civics activity, during lunchtimes or after school hours, or be organised within the teaching of certain required subjects and courses. CEFA assesses and then advises and helps the school and its teachers to find an appropriate pathway.
CEFA can offer CEFA School Parliaments not only to individual schools, but to clusters of schools and to alternative learning communities including groups for youth leadership, indigenous education, environmental, culturally-diverse, health and fitness, multicultural and talented children initiatives.
CEFA has received significant recognition for CSPs including featured articles in major educational journals, accreditation for professional teacher development, state and federal educational authority endorsements, media and community recognition and support from eminent Australian leaders and ambassadors.
Benefits of implementing a CEFA School Parliament
To students as Australian citizens
Participants develop an understanding of responsible and active civics values, so important to life-long participation in our Australian democracy.
Students learn about our history, democracy, system of government and Constitution. Through CEFA School Parliaments, students become educated about Australian values including peace and tolerance, inclusiveness, the rule of law, the value of the vote and the importance of community.
CSPs make politics, the electoral process and democracy relevant to students and allow them to experience an adult world while still at school.
They take on personal responsibility within school and in their families. CEFA School Parliaments enable students to actively participate at a young age in positions of responsibility as well as engage in active understanding of modern issues relating to civics, citizenship and values.
To teachers and schools in fulfilling curricular requirements
CEFA School Parliaments are designed as grass roots whole-of-school civics and citizenship, values education initiatives intended to eventually engage the majority of students in a school community, not only the academic elite.
A CSP is highly experiential and addresses outcomes outlined in state and territory syllabuses. Itencompasses cross-curricular activities across all Key Learning Areas, and can successfully create a multidimensional learning experience for the whole school.
It immerses participants in a continual learning process, which can last for their whole school life and foster a desire for life-long learning and interest regarding civics and citizenship. It incorporates self-directed learning, and student ownership of the learning process to create an optimal educational experience.
Choosing the Right Way for Your School to Implement a CEFA School Parliament
There are several pathways to implementation of a CEFA School Parliament. CEFA assesses, advises and helps the teachers involved to find the most appropriate pathway for each school according to its needs and priorities and the resources available.
While every primary and secondary school in Australia is different, schools tend to implement their Parliaments using one of the following three distinct methods.
Integrating your CEFA School Parliament with the curriculum.
Introducing a CEFA School Parliament as a co-curricular initiative outside class time. E.g. "The Parliamentary Club"
Using a CEFA School Parliament as a student leadership and governance initiative. E.g. either compliment or replace the Student Representative Council (SRC)
The first method is to utilize the school's curriculum. Class or Year Parliaments are implemented as a means of teaching a particular subject in order to address specific required syllabus outcomes, for example
As components of Years 5 and 6 Civics and Citizenship/Government/Democracy units of work; or.
As components of Years 9 and 10 Commerce, History, and Civics and Citizenship units of work.
At schools opting to implement a CEFA School Parliament following the second method, the parliament is established via a school club or interest group, where students who have a particular interest in civics, citizenship and politics meet regularly to learn about our democratic system with the goal of creating a school parliament. In this way it is similar to the chess club, the environmental club or the running club. However experience has shown that once the CEFA School Parliament is established this club rapidly ceases to be a niche interest group and attracts a very broad following among the student population. St Joseph's College Albion Park NSW pioneered the Parliamentary Club pathway. The teacher, Don Perna, who piloted this world-first civics education initiative, is the former National Director of CEFA School Parliaments
Click here for St Joseph's - A Case Study
The third major pathway, and one chosen by an increasing number of schools, is to implement a CEFA School Parliament as a way to encourage student leadership initiatives. Often, it is implemented in one of the following two ways:
As a restructure of student leadership within the school to reflect the bicameral system of government used nationally and within Australia's states and territories. In this case we utilize the existing structure within the school to form two 'houses' of leadership, including the possible enhancement of the Student Representative Council as the senate or upper house with increased involvement and capacity to teach the entire school community about our democratic processes.

As a method of encouraging middle school leadership. Many schools are searching for ways to include middle school students in the leadership component of school life and CSPs are an excellent way to address this issue.
To further explore the process of getting your CEFA School Parliament up and running, follow the suggested CEFA School Parliaments 6 Steps to Implementation found on our Teaching & Learning Resources page
What happens to our school's SRC in CEFA's Parliaments in Schools?
The Parliaments in Schools was designed to enhance the status of the SRC, and to utilise this student leadership organisation in the educational value of the initiative. In most cases schools have incorporated the SRC as their upper house (senate) creating the bi-cameral system of student leadership. Anecdotal evidence to date is showing that in many cases the SRC's role and its status in the school improves. We have found that The CSP addresses many of the key principles in the concept of the SRC existence. CEFA believes that there are reciprocal benefits for both The Parliamentary Club and the Student Representative Council, as they exist in schools together. Please visit the Student Representative Council (SRC) Website for more information regarding SRC.
Case Study: St Joseph's High School
Parliamentary Club Overview
The club has grown in popularity since 2004. Over 90 students have become members in a wide variety of roles. This is the largest group of students involved in an extra-curricula activity (rivalling sporting clubs and Rock Eisteddfod) that St. Joseph's has seen in 25 years.
The club prides itself as a initiative, which is inclusive of students regardless of age, gender, academic or social backgrounds. "There is a place for everyone in The Parliamentary Club".
Most attempts to engage young people in learning about the democratic process in Australia draw the attention of those who are academically advanced, often excluding the majority of students who should also have the opportunity to be part of this very important area of education.
The students in The Parliamentary Club learn about Civics and Citizenship by playing the roles which are essential to living in a democratic society. We have elected officials, political parties, our own political journalists, two organizations whose task it is to monitor the integrity of all within it i.e. O.S.I.O and the St Joseph's Independent Commission Against Corruption (ICAC).
Students are drawn to the role that is reflected in their interests and personal strengths. They then begin a self-directed journey of learning about civics, at their own pace and specific to their abilities and simultaneously teaching the wider school community just by its existence.
The elected parliament, the St Joseph's House of Representatives, sits as regularly as the school calendar permits, ideally three sittings each term, and has become an influential mechanism for change within the school. It has successfully changed the structure of student leadership by installing the traditional Student Representative Council as the school's Upper House (Senate), and has begun the task of improving the lives of students here at St Joseph's and continuing to educate students in the area of civics.
The SRC's role has now expanded and has a dual purpose:
Traditional leadership role, concentrating on fundraising, social activities etc
Its place in our bi-cameral system of student government as the school's Senate
Here are some of the activities that the members of the club and the wider school community have participated in:
Creation of political parties
Party leadership challenges
Policy development/Parliamentary Inquiries
Election campaigns
Elections conducted totally online
Creation of school parliament complete with Speaker of the House, Government and Opposition, Clerk, Sergeant-at-Arms, etc.
Political journalism and the establishment of school's first newspaper
Exhibitions of parliamentary sessions, (e.g. Question Time)
Online quiz for the wider school community
Other resources:
The Parliamentary Education Office in Canberra offers teachers a series of films and fact sheets on the roles and functions of Parliament. www.peo.gov.au
To watch students role play the Parliament, House of Representatives, follow the link http://www.peo.gov.au/multimedia/videos.html