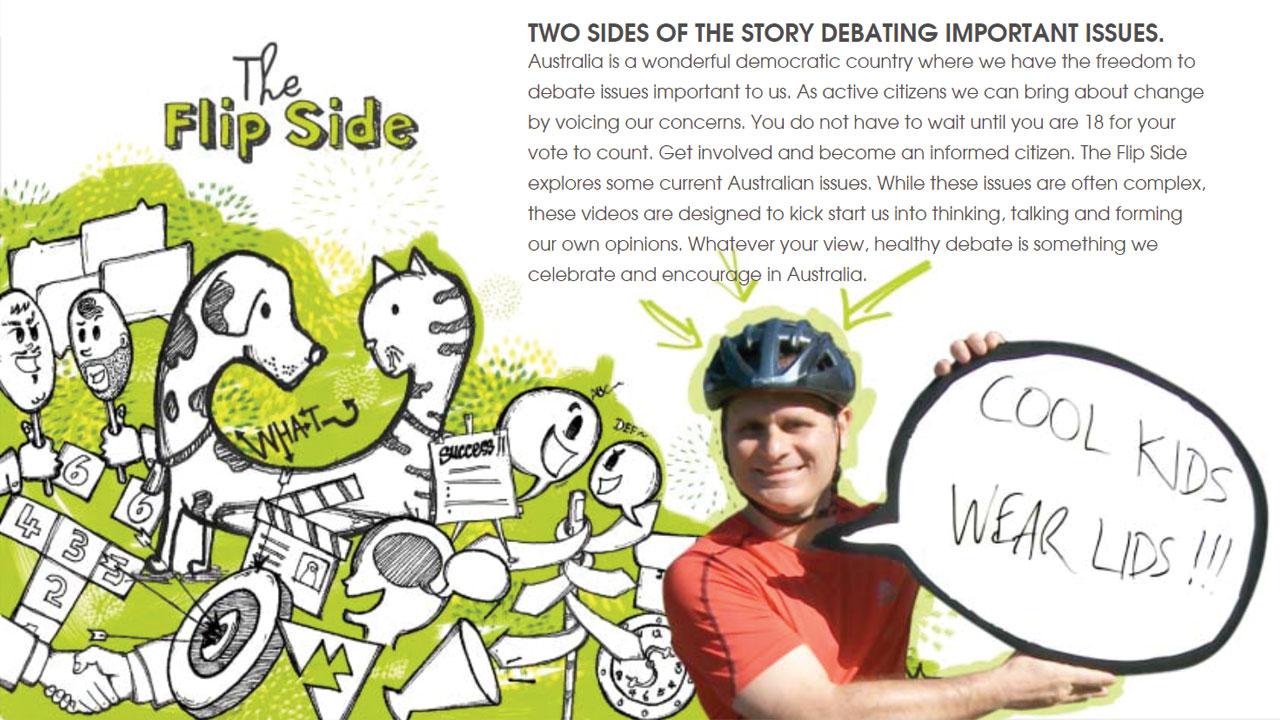 The word 'Yaba' is found in some Indigenous languages and means 'to talk'.
Yaba supports the Australian Civics and Citizenship Curriculum, and CEFA continues to work closely with Australian Curriculum Assessment and Reporting Authority (ACARA) and Education Services Australia (ESA) to ensure it remains relevant to the needs of Australian schools, teachers and students.
Yaba features extensive use of film, social media and video technologies, and enables students and teachers to talk to each other across the nation in a safe and secure environment.  Yaba is a multi-channel film driven website designed to encourage students in years 3-12 to further their understanding of the Australian Constitution, the Australian democracy, Australian values and the Australian way of life.
CEFA's primary and secondary school parliaments now have a dedicated channel as part of the Yaba website. 'Prime Ministers' in schools in Darwin or Broome are able to chat and collaborate with their counterparts in Fremantle or Broken Hill.  Other student channels such as the "Student Blog" and "Awsome Aussies" allow students to showcase their work in a safe moderated environment.  In the teachers' area of Yaba, the teacher's forum is a collaborative space where teachers can share ideas and resources and seek assistance for teaching civics and citizenship content.
The professionally produced films are currently divided into three channels: "The Flip Side", which explores to sides to contemporary debates; "A Day in the Life", which is a behind-the-scenes look at who does what in the Australian system of government; and "Sensational Kids", which celebrates young Aussies being extraordinary citizens contributing to a brighter future for all Australians.  All these films and their links to the current Australian Civics and Citizenship Curriculum are described in the following table.
Yaba provides the tools to help students learn skills in research, analysis and synthesis, collaborative problem-solving and decision-making and communication as they relate to issues of Australian governance. Students are challenged to think on such issues as the merits and operation of the Australian Constitution, our political institutions, our rule of law and the history and future of our inclusive parliamentary democracy through three professionally produced and three student user-generated web-based channels.
The Education Minister, The Hon Peter Garrett AM, emphasised the importance of "respect, tolerance and an understanding and appreciation of our nation's culture and history" in his comments to the Sydney Morning Herald (5/6/12) on the new Australian Curriculum: Civics and Citizenship. CEFA recognises the importance of these values and through Yaba we will continue to promote the values which are intrinsic to the Australian way of life and in so doing our aim is to help empower the next generation of informed, engaged and active Australian citizens.
Yaba Case Study
Students utilizing the Yaba Student Blog reflect on personal experiences with issues pertaining to Civics and Citizenship. A case in point is Ezekiel, a year 10 student from Darwin, who reflected upon his family's experience in becoming Australian citizens after migrating from the Philippines. Entitled 'My Citizenship Experience', Ezekiel gives a first-hand narrative of the process of gaining citizenship and the reasons why his family chose to become Australian citizens. In a heart-warming address to young Australians, Ezekiel contrasts the poverty, crime and deprivations he saw in his country of birth to the peace and privileges he now enjoys in Australia. He urges young Australians to value their citizenship, all that it offers, and particularly talks to those lucky enough to have been born in Australia. A lesson was created in the teacher forum for year 9 students studying citizenship, and this immerses them in the process involved in gaining citizenship in Australia, with Ezekiel's blog as a central stimulus. This lesson led to students from Rossmoyne High School in Western Australia responding to the idea of citizenship and creating films to explain the importance of citizenship. Year 5 students from Sydney's North Shore also responded to a similar learning experience by making comments in the forum about their own experiences and perceptions of citizenship.